All-KingCo Knights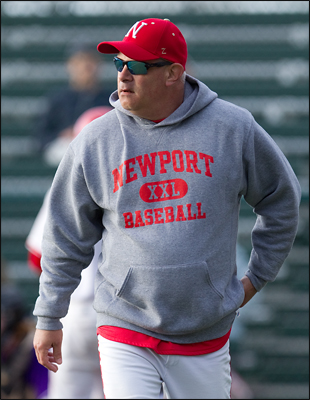 Head coach Brad Files was named the 2022 KingCo 4A Coach of the Year. Photo Credit: Ronnie Allen
Congratulations to senior pitcher Kenji Price and junior first baseman Jack Holmes for receiving Second Team All-KingCo honors. Nice work, fellas! Head coach Brad Files was also recognized by his peers for his efforts on the field as the KingCo 4A Coach of the Year.

WIAA - Regional Playoff Bracket
---
Representing Newport Knights Baseball
Longtime volunteer assistant coach Steve Rader throws out the first pitch to his son at a recent M's game.
---
Remembering Phil Ito
We're saddened to announce the Newport Baseball Family lost a brother with the unexpected passing of 2014 alum Phil Ito. Phil was a great person and teammate, will be greatly missed and never forgotten.
---
Newport Baseball Alumni
We set up an alumni group so everyone can stay better connected to each other and the program. Information about future alumni events will be posted here as well.
Knights in Baseball
Todd Hollandsworth

1991 alum and 1996 NL ROY is a broadcaster for the Miami Marlins.
Tripper Johnson

2000 alum works for Sosnick Cobbe as a baseball agent.
Ron Romanick

1979 alum is the NY Mets minor league pitching coordinator.
Jeff James

2002 alum is an assistant coach at California State University, San Bernardino.
Jason Kim

2005 alum spent two years as Newport freshman head coach before joining varsity as assistant in 2016.
Jordon Franklin

2006 alum was named head coach of the Knights' freshman team in 2017.
Bill Sahlinger

2012 alum joined the Knights' staff in 2018 and is currently the varsity pitching coach.
Brad Files

1988 alum joined the Knights' staff as Var assistant in 1997 and took over the head coaching duties in 2014.
Sumair Shah

2014 alum joined the Minnesota Twins organization as an R&D Analyst in 2020.
Rob O'Neil

1989 alum is an asst coach at Stadium HS in Tacoma.
Todd Reese

2015 alum joined the Lakeside Recovery staff as a Senior Team assistant in 2018.
Vinny Guinasso

2015 alum joined the Knights' staff as a JV assistant in 2020.
Matt Johnson

2001 grad is an assistant coach at Bellevue HS.


LAST GAME
1
2
3
4
5
6
7
R
H
E
Newport
3
0
0
2
2
0
0
7
13
0
Jackson
0
0
0
6
0
0
1
8
11
0
(N) Ginsberg, Freytag (4), J. Turner (6), Freer (6) and Santulli. (J) Lundquist, Heinrich (3), Johns (5) and O'Donnell. WP - Johns. LP - Freer. Highlights: (N) Holmes 3-5, 2 2B, 2 RBI, R; J. Turner 2-4, RBI, R; Wu 2-4, RBI, R; Freer 2-4, 2 R.
Max Preps - KingCo 4A
Newport Triple Play Booster Club
Supporting the traditions of Newport Knights Baseball by connecting the past, present and future.President: Dave Holmes
Communications: Danielle Holmes
Treasurer: Joann Oshima
Secretary: Alan Wittman
Member at Large: Tim Auld
Member at Large: Eli D'Alessandro
---

Legendary Coaches
The pursuit of excellence and tradition instilled by former head coaches Bob Albo and Brian Fischer survives today.
Bob Albo Field
Named after the legendary coach in March 2012, Bob Albo Field is one of the best high school baseball facilities in the state.

---